Welcome to Aston's journal!
We invite you to share in our joy of raising our fur-baby!

if you'd like to be added to aston's friends list, please comment on this post.


a parody on Justin Timberlake's song: "Damn Girl".
He apparently loves Britney's bald new look.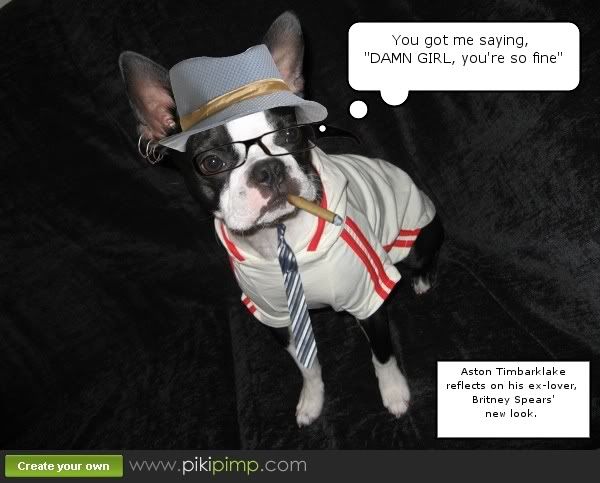 **Disclaimer** All photos/videos of Aston are copyrighted.
Please do not save, copy, or publish without my permission. Thank you!

Aston's videos:
a year in the life of aston, happy birthday day, army birthday, aston iv,
let's go swimming, gone fishin', ode to ye grapenuts


Ast-on Davis :)
GOOOO WARRIORS!!
i've been looking ALLLL over for a warriors jersey for aston online. no luck. we went to the game tho yesterday and guess what.... THEY HAD IT! guess who's a little warrior?!
Current Mood:

ecstatic
COLLAR 1
ordered some collars from the seller luckyfiona on etsy.com. i LOVE it! very sturdy and i love that she adds little charms to each collar! here's aston modeling his new stuff!
oooh. wear the collar as a headband. BONUS! (yes we still have our christmas tree up lol)
bought this ulra cute boston terrier bag from KOHL's (50% off!) haha..... of course, i wouldn't wear it in public, lest I want to get curious looks from passersby. lol. but i'm a crazy boston lady and i just HAD to get it!!
Current Mood:

grateful
We simply cannot believe that our little mon chi chi is now 2 years old! He's a MAN, baby! Aston's still as sweet as ever (and still a daddy's boy haha). We love him so so so much!! We just cannot imagine our life without him....
Happy Birthday, Aston! May we celebrate MANY MANY MANY more birthdays with you!
CLICK ON THE PICTURE BELOW!!
AGH!! I wish I knew how to work our new iMovie on our MacBook Pro, otherwise, I'd have a slideshow of his 2nd year. I'll have to learn and post it later ;)
His birthday celebration was pretty low key. When I got home from work, we had to bring him to his appointment at the vet. Since we moved, we decided to move to a vet closer to us. The vet saw that Aston's paws had hair loss and looked red. I told him about his history with allergies, but we went ahead and ok'ed a skin scraping to rule out demodex (again, for the 3rd time). Thankfully, his tests came back negative, but that just means that we'll have to figure out what he's allergic to and might have to see a veterinarian dermatologist. For now, he was given antihistamines and a topical spray to get rid of the itch. Our 2 year old boy weighed in at 19.3 lbs :)
THANK YOU ALL FOR THE WARM BIRTHDAY WISHES!! Here's to another fun-filled year!
Current Mood:

jubilant
can't believe our little furbaby is 2. such big boy, but BIG on love :) We love you Aston! (Will be back later for a birthday recap)
Uh... Grandma O? Looks like you have a serious bug problem here!
we spent the weekend at my aunt's house (my mom's sister) and aston made a discovery:
Current Mood:

scared